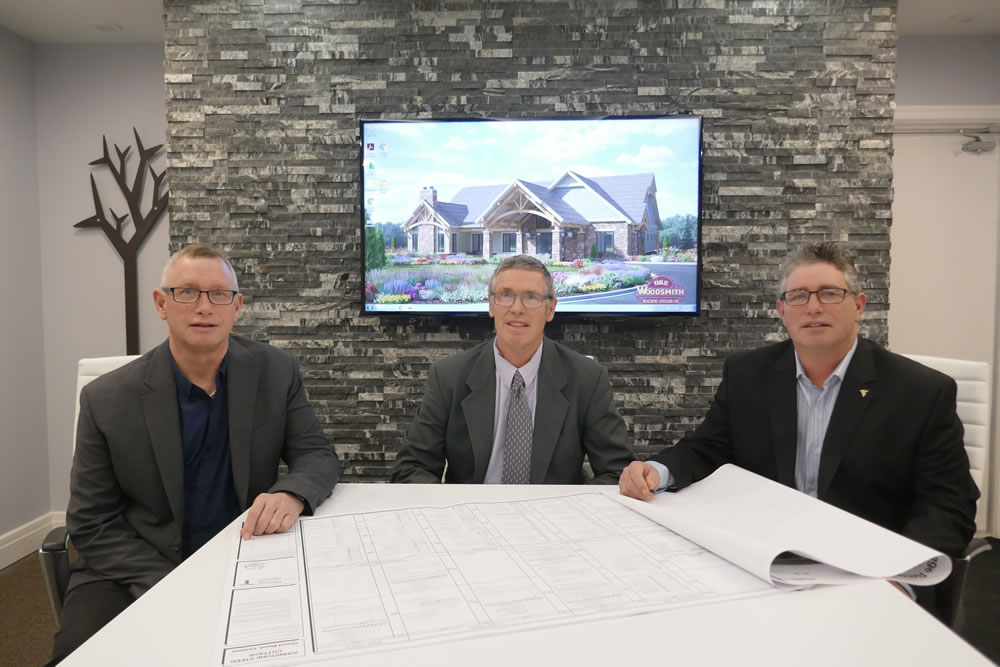 At Oke Woodsmith, we do much more than build houses. We take design ideas from our clients, meld them with our own, and keep our collective relationship on track during the construction process and beyond.
Like any good marriage counsellor, we help our clients over rough patches when they second-guess themselves and need confirmation they've made the right decisions. We haven't had a divorce yet; in fact, many of our clients are building their second or third home with us, so it seems we're headed in the right direction.
While anyone can build a house, we believe it's much harder to build a home. Infusing a building with personality and function comes from listening to our clients throughout the construction process. Our foremen and building superintendents meet with clients daily on their property and ensure they understand what they're getting in their new home.
However it's not just our communication skills that attract clients to our company. We keep ourselves, and our tradespeople, up to date on advances in building science. Many of our houses are constructed of Insulated Concrete Forms (ICF), which we believe is the very best way to build a home.
During the construction process, we pour cement into insulated styrofoam forms that have been reinforced with rebar steel. The forms stay in place and become part of the finished wall, resulting in a concrete mass that eliminates drafts and deadens sound. ICF homes, in fact, are 100 per cent more energy efficient and 300 per cent quieter than a conventional wood-frame home. Homeowners never have to worry about being cold – even when gale-force winds are blowing off the Great Lakes during the frigid winter months.
In the interests of comfort, we encourage our clients to heat their homes with radiant in-floor heating, which provides a consistent temperature from floor to ceiling and doesn't circulate dust. We often pair radiant heating with engineered wood flooring since it doesn't shrink as natural hardwoods do. Ceramic or porcelain tile are also an effective medium for transferring and retaining heat.
In this edition of the magazine, we've presented a cross-section of homes that exemplify our design ethic: we avoid hallways, particularly in smaller homes, since they represent wasted space. We also use a variety of ceiling treatments to define open-concept living areas, which is particularly evident in Don and Marg Bulloch's home in Grand Bend. We believe in filling a home with light and we use skylights and windows in strategic places, including bathrooms, hallways, closets and even walk-in pantries, to make a home as inviting as possible.
We encourage our clients to accompany us to an annual builders' show in the U.S. where they're able to see the latest American design elements. We try to incorporate features, such as large islands in kitchens, that aren't used locally.
Our clients' options are as broad as their budgets and imaginations will allow. They must be prepared, however, to invest time in making thoughtful decisions about finishes and materials which adds up to making the difference between building a house – or building a home.
At Oke Woodsmith, we're building not just for the decade, but also for the century. Our hope is that the next generation will renovate and update our buildings a hundred years from now. Whether it's a home or an office building, we feel confident that the structure will be as solid as the day it was built.