Paying it forward ~ Four-decade legacy passes to new generation
From two generations to now the third one, and hopefully the fourth, Oke Woodsmith Building
Systems (Oke Woodsmith) is a legacy success story.
---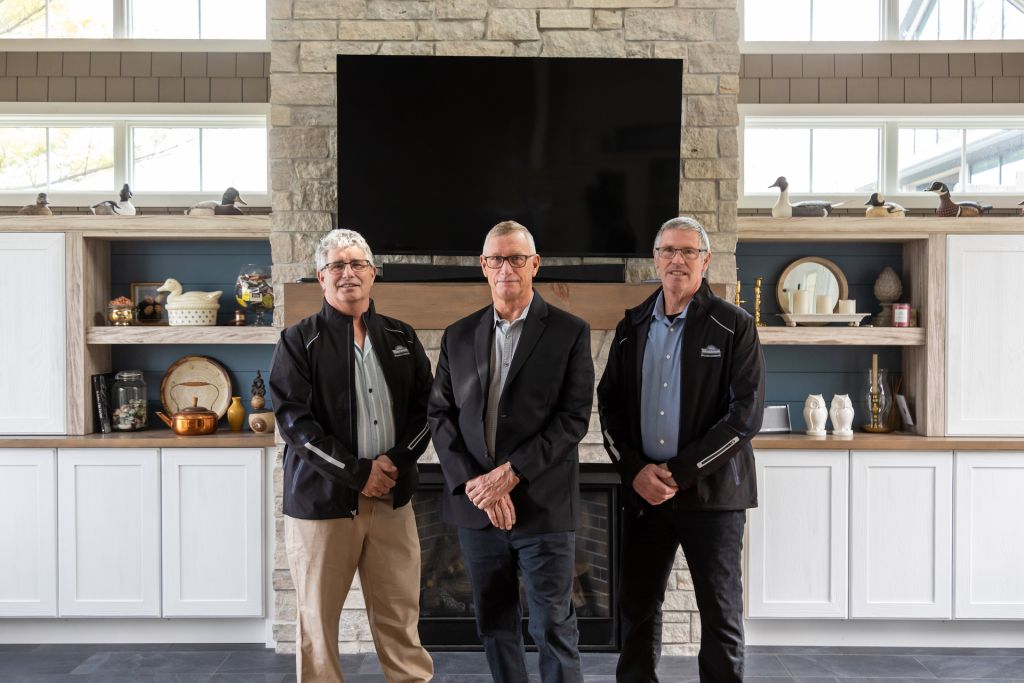 Started in 1984 when four brothers and their father came together to build one brother's home in the Grand Bend area, Oke Woodsmith Building Systems (Oke Woodsmith) has spent almost four decades perfecting its equation for custom-home-building excellence:
Discerning, involved clients + design excellence + skilled workmanship + attentive, effective service = a home that clients love and live in happily
That's the formula that father Don Oke and three of the brothers – Wayne, Kevin and Randy – used to become one of Ontario's best-known custom home builders. This is the legacy now being passed on to the third generation as of January 2023, just as the company approaches its 39th year in business.   
Oldest brother Wayne is pleased that his daughter Katelyn and her husband Derek (Hodgins) are joining youngest brother Kevin's son Jeremy and his wife Danielle in taking over leadership of the company. The four new principals are in their 30s and are excited about this new step in their professional journeys and to continue the legacy that their parents and grandparents began.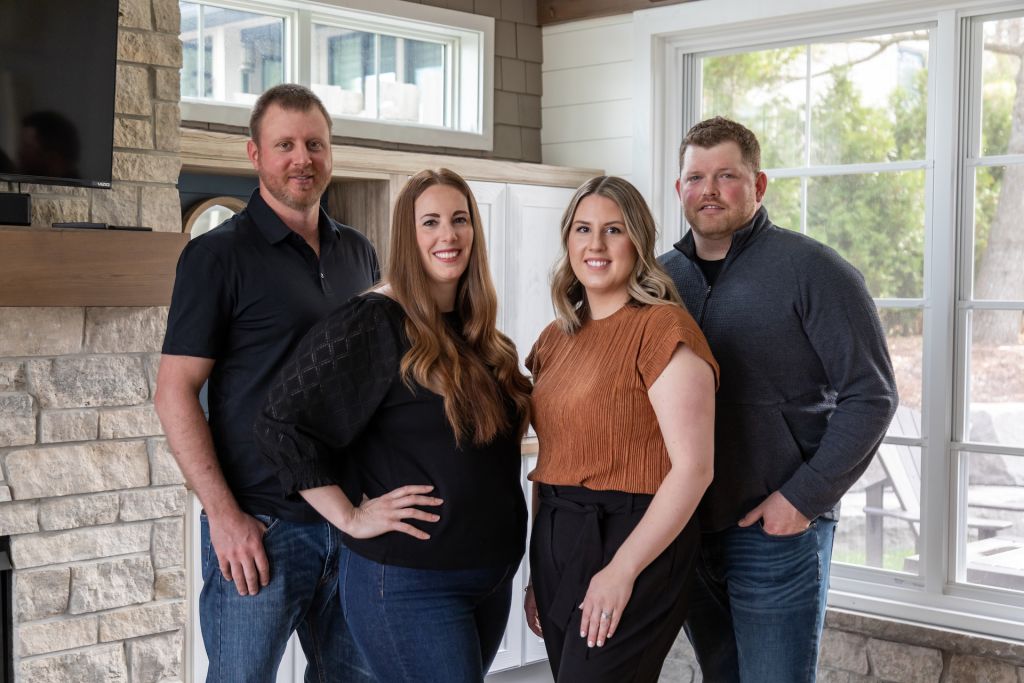 "We (Jeremy and I) grew up in the business," says Katelyn, "and we have strong backgrounds in it. Oke has a solid name in luxury custom homes, and we want to continue that. We are looking at new avenues to grow the business and keep it moving forward, but we are committed to the same quality of building and service that the family started."   
Randy agrees, adding, "They are energetic and it's good to have new blood. Oke Woodsmith started as a first-generation builder. We were taught by our father, and we've passed a lot on to them, but maybe they'll use new techniques."   
As the company developed, the brothers defined their roles, with Randy (middle brother) managing the office and doing most of the customer interface with sales and design. Then Wayne would take over the first stages of the building process – excavation and infrastructure – with Kevin going in when the walls were up to oversee finishing the interior.    
Jeremy, who worked at his father's elbow for most of his life, developed his skills as a finish carpenter. He has worked for the company full-time since 2007. As company president, taking over Randy's role, he'll be working with clients to close the deal, as well as doing budgeting and estimating for each project.   
Danielle, his wife, has worked full time at Oke Woodsmith since 2015 – starting as a receptionist, working her way up to assisting Joanne (Kevin's wife) with the books. Like Betty (the Oke brothers' mother) did for her, Joanne recently retired and is mentoring Danielle as she takes over financial matters. "Betty showed Joanne what to do and now Joanne is doing that for Danielle," says Randy. Danielle is now the treasurer and financial officer, taking care of accounts payable/receivable – as well as managing the office. Long before she and Jeremy were married, Danielle was an honourary Oke by virtue of her close friendship with Joanne and Kevin's daughter Kelsey (Oke) Renning, who runs and maintains the social media pages, along with owning her own photography company. She photographs all of the finished houses for marketing purposes. 
With a background in working with heavy agricultural equipment and having been employed in residential construction over the years, Derek, now company vice president, is the ideal person to take over Wayne's role of overseeing excavation and infrastructure. He was raised on a farm and currently Derek and Katelyn own, operate and live on a cash and cattle farm. Derek feels his current role is a great place to start but looks forward to learning all aspects of custom home building as executed by Oke Woodsmith.   
Katelyn, company secretary, remembers family dinners with plenty of business talk, and she's comfortable with her new role as one of the owners of Oke Woodsmith. She'll be weighing in on all major decisions while continuing as vice president of a London-based insurance company.   
In their new roles as employees rather than owners, the three founding brothers will remain hands-on, as well as provide mentorship to the new owners.    
"This is far better than having some random group or company take over. It's been quite successful for me and my brothers. Derek has a construction background, and he'll more than fill my shoes," comments Wayne."    
Randy adds, "I've always really enjoyed it. There's nothing better than working for yourself."   
Youngest and therefore the furthest from traditional retirement age, Kevin says, "I'm proud of Jeremy and the others. It's been a long time since I was an employee. I enjoy working, and it's nice to be getting back to being hands-on in the field again."   
Additionally, all parties credit the skilled and dedicated craftsmen who make up the bulk of the Oke Woodsmith staff with the company's ability to construct outstanding custom homes, with some employees having been there for more than 15 years. "The knowledge and attention to detail is what truly stands us apart and the effort our employees put in to producing a quality outcome has been vital to our success," explains Jeremy. 
Their in-house administrative employees also play an integral part of Oke Woodsmith's ongoing success. "Having a group of office staff members – who work well together, bounce ideas of each other and have a like-minded end goal – has not only contributed to the success but really makes coming to work everyday an enjoyable thing to do," comments Danielle.  
The next generation is already teed up to take over in the next couple of decades. Jeremy and Danielle's oldest son Kason (4) is "very much interested in construction and wants to go to the office with me," says Danielle. She says that Conor (21 months) is showing the same interests.   
Katelyn says their son Colin (2) shares that passion for heavy equipment and enjoys going to the shop. "We want it to be a legacy for the kids and give it to them when the time comes. This is a family-run business. My grandpa started with dad and his brothers. The cousins all worked here at one time or another, and we want to see that for our kids," she explains. The couple also recently celebrated the birth of Harper a few months ago.   
"Our fathers and grandfather built something great by doing everything carefully and with real quality. That's exactly what we're going to continue doing," says Jeremy. The Oke Woodsmith Building Systems legacy is safe in the hands of its third-generation ownership.  
Story by: Write.On Communication Services